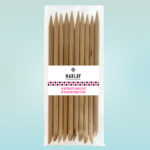 10 Manicure Sticks
4,90€
– 10 heavy duty orange wood sticks
– Specially shaped to push back cuticles and clean nails.
– 11.5 cm long – one pointed end + one beveled end
Use the manicure sticks as and when needed, to push back cuticles, remove excess gel that has spilled over the edge of the nail, or to fix nail polish application.
They help push back and loosen dead skin for a clean, crisp nail outline ready for polish or clear base.
They also allow you to apply the colour for a French manicure during the gel application.
The pointed end of the wooden stick can also be used to affix rhinestones and decorations
FOR BEST RESULT, COMPLETE WITH